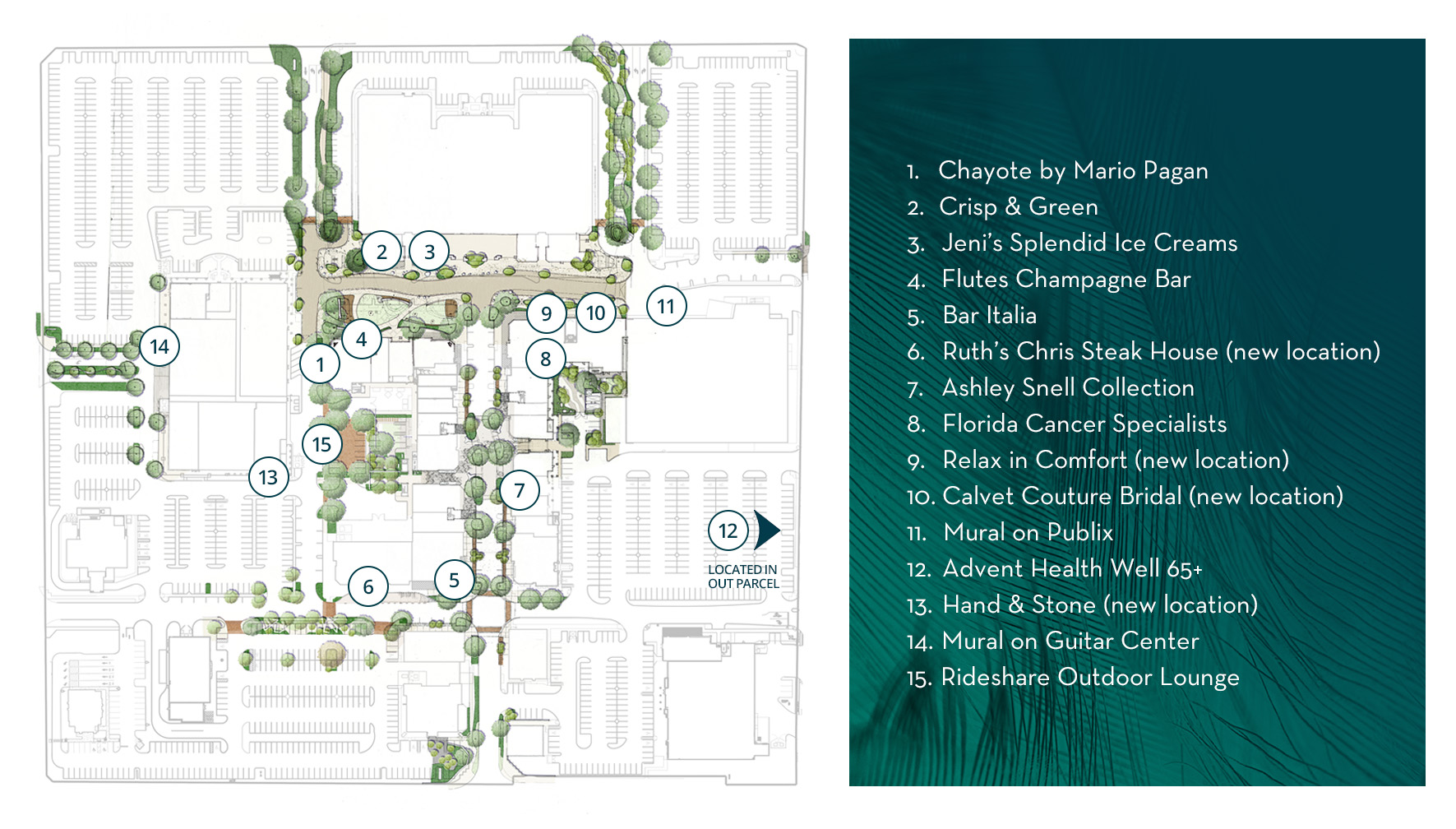 WINTER PARK, FL – MARCH 28, 2022 – A sweeping revival is underway at Winter Park Village, an outdoor shopping venue located at 510 N Orlando Avenue, with culinary vanguards, specialty retailers, health and wellness options and more opening this year. Casto Southeast Realty, the developer of the project, and Colliers International, the exclusive leasing agent, have executed signed lease agreements with nine new tenants, including Chayote (a Mario Pagan restaurant), Crisp & Green, Jeni's Ice Cream, Bar Italia, Ashley Snell Collection, Flutes Champagne Bar, Advent Health Well 65+ and Florida Cancer Specialists. In addition, Ruth's Chris Steak House will reimagine its culinary experience with a new flagship restaurant within the revitalized outdoor shopping venue. Many other tenants will be announced in the near future.
"We are thrilled to announce these new tenants for Winter Park Village as part of what will be an exciting new and highly anticipated shopping experience for Central Florida," said Brett Hutchens, President of Casto Southeast Realty. "The new Ruth's Chris Steak House flagship restaurant will be an impressive addition, and we expect that the new Mario Pagan restaurant, Chayote, will be incredibly popular as well," he continued.
"It's gratifying to see the vision for the Winter Park Village revival becoming reality," added Alexie Fonseca, Managing Director of Retail Services for Colliers International. "We've worked hard to curate an eclectic and high-end collection of retailers and restaurants to satisfy the most discerning clientele," she added.
"We've been encouraged by the tremendous interest this project has gained from national retailers and marquis restaurants as well as securing commitments from Advent Health and Florida Cancer Specialists," said David Gabbai, Executive Managing Director of Retail Services for Colliers International. "We're grateful to see the market rebounding and look forward to an exciting grand opening of the next phase of Winter Park Village," he continued.
About Casto Southeast Realty
CASTO, a fully integrated real estate organization since 1926, is a recognized leader in the ownership, management, acquisition and development of multifamily residences, commercial shopping centers and office buildings. CASTO's growing portfolio currently includes more than 26 million square feet of commercial property and more than 5,000 residential units located throughout the midwestern and southeastern United States. CASTO Southeast Realty is based in Sarasota, Florida and serves a variety of clients. To learn more, visit castoinfo.com.
About Colliers International
Colliers (NASDAQ, TSX: CIGI) is a leading diversified professional services and investment management company. With operations in 62 countries, our 17,000 enterprising professionals work collaboratively to provide expert real estate and investment advice to clients. For more than 27 years, our experienced leadership with significant inside ownership has delivered compound annual investment returns of 20% for shareholders. With annual revenues of $4.1 billion and more than $50 billion of assets under management, Colliers maximizes the potential of property and real assets to accelerate the success of our clients, our investors, and our people. Learn more at corporate.colliers.com, Twitter @Colliers or LinkedIn.
# # #