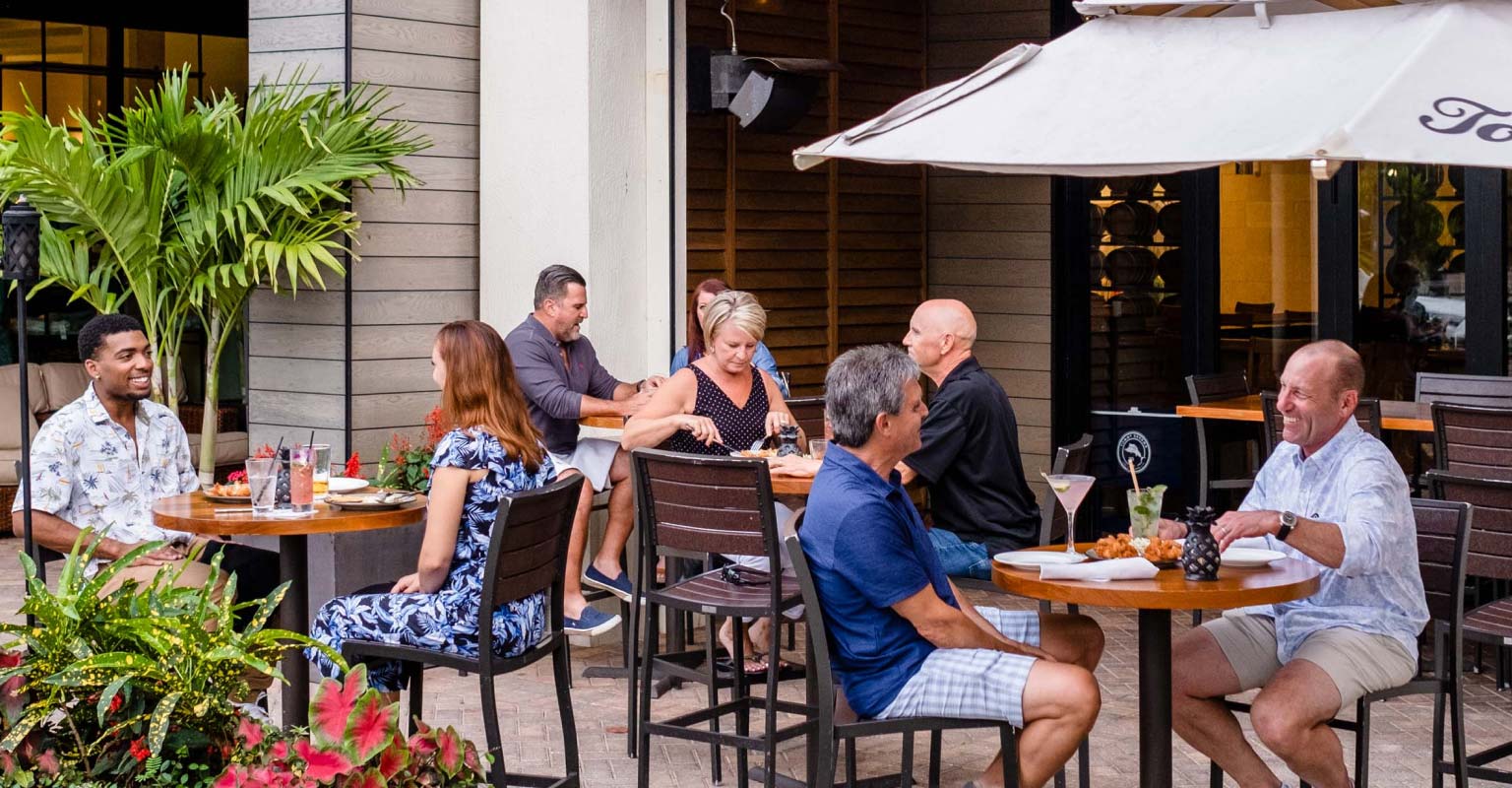 Combined Restaurant-Retail Experience Celebrates Relaxed, Island Lifestyle
March 13, 2023 – WINTER PARK, FL – CASTO Southeast announced today that Tommy Bahama, a pioneer of the combined restaurant-retail experience, will open a new Tommy Bahama Marlin Bar at the revitalized Winter Park Village located at 510 North Orlando in Winter Park. A restaurant and bar alongside a retail store, the Tommy Bahama Marlin Bar embraces the brand's easy, relaxed spirit with a casual new concept where guests can eat, drink, and shop. The Winter Park location will open for the Holiday 2023 season and will be the sixth Marlin Bar in Florida. Other locations include Coconut Point, Jacksonville, Palm Beach Gardens, Dania Pointe, and Ft. Lauderdale.
For 30 years, Tommy Bahama has brought the resort lifestyle to its guests through a wide range of products, combined with extraordinary hospitality in its retail stores, bars, and restaurants. The company owns and operates more than 160 Tommy Bahama retail locations worldwide, 21 of which offer a Tommy Bahama Restaurant & Bar or a Tommy Bahama Marlin Bar.
"We are thrilled that Tommy Bahama has chosen to open its sixth location in Winter Park, Florida, at the new Winter Park Village," said Brett Hutchens, president of CASTO Southeast. "We believe that the Marlin Bar concept is a perfect fit for the Winter Park lifestyle and will be an exciting anchor, adding to what will be an exclusive collection of influential new concepts and brands at the revitalized Winter Park Village."
"We are so excited to bring the coveted Tommy Bahama lifestyle brand to Winter Park," said Alexie Fonseca, Managing Director of Retail Services for Colliers International. "Our discerning clientele have been craving a concept like Marlin Bar for a long time and we believe this will be a hot spot for residents and visitors to meet, dine, and shop."
"Florida is a big part of our heritage and the essence of Tommy Bahama. We're excited to expand our Marlin Bar concept here," said Doug Wood, CEO of Tommy Bahama. "Over the last 30 years, we have seen how our guests enjoy shopping at Tommy Bahama when it is combined with a restaurant. It's one of the ways Tommy Bahama is different from other lifestyle brands. We developed the Marlin Bar concept to create a more casual way for our guests to enjoy the Tommy Bahama shopping and dining experience."
The Tommy Bahama Marlin Bar features a retail store showcasing the Tommy Bahama men's and women's sportswear, swimwear, accessories, and home décor collections, alongside a casual-hybrid restaurant and full-service bar for a quick light bite or a place to linger over drinks with friends. A new style of service has guests place their order at the bar and then the food and cocktails are delivered to their table. Each location has an open floor plan with plenty of patio seating, the perfect backdrop for enjoying delicious food and drinks.
About Tommy Bahama:
Tommy Bahama is part of Tommy Bahama Group, Inc., a wholly-owned subsidiary of Oxford Industries, Inc. (NYSE:OXM). Established in August 1992, with corporate headquarters in Seattle, Tommy Bahama is the iconic island lifestyle brand that defines relaxed, sophisticated style in men's and women's sportswear, swimwear, accessories, and a complete home furnishings collection. The company owns and operates more than 160 Tommy Bahama retail locations worldwide, 22 of which offer a Tommy Bahama Restaurant & Bar or a Tommy Bahama Marlin Bar. The Tommy Bahama collection is available on TommyBahama.com and at the finest U.S. retailers. The first Tommy Bahama Resort is slated to open in 2023. For more information, please visit www.tommybahama.com.
Other Tommy Bahama Marlin Bar Florida Locations:
Coconut Point | 23150 Fashion Dr. | Estero, FL
Dania Pointe | 150 North Pointe Dr. | Dania Beach, FL
Fort Lauderdale | 740 East Las Olas Blvd. (at 8th Ave.) | Fort Lauderdale, FL
St. Johns Town Center | 4812 River City Drive | Jacksonville, FL
The Gardens Mall | 3101 PGA Blvd. | Palm Beach Gardens, FL
About CASTO Southeast Realty:
CASTO, a fully integrated real estate organization since 1926, is a recognized leader in the ownership, management, acquisition, and development of multifamily residences, commercial shopping centers, and office buildings. CASTO's growing portfolio currently includes more than 26 million square feet of commercial property and more than 5,000 residential units located throughout the midwestern and southeastern United States. CASTO Southeast Realty is based in Sarasota, Florida, and serves a variety of clients. To learn more, visit castoinfo.com.
# # #