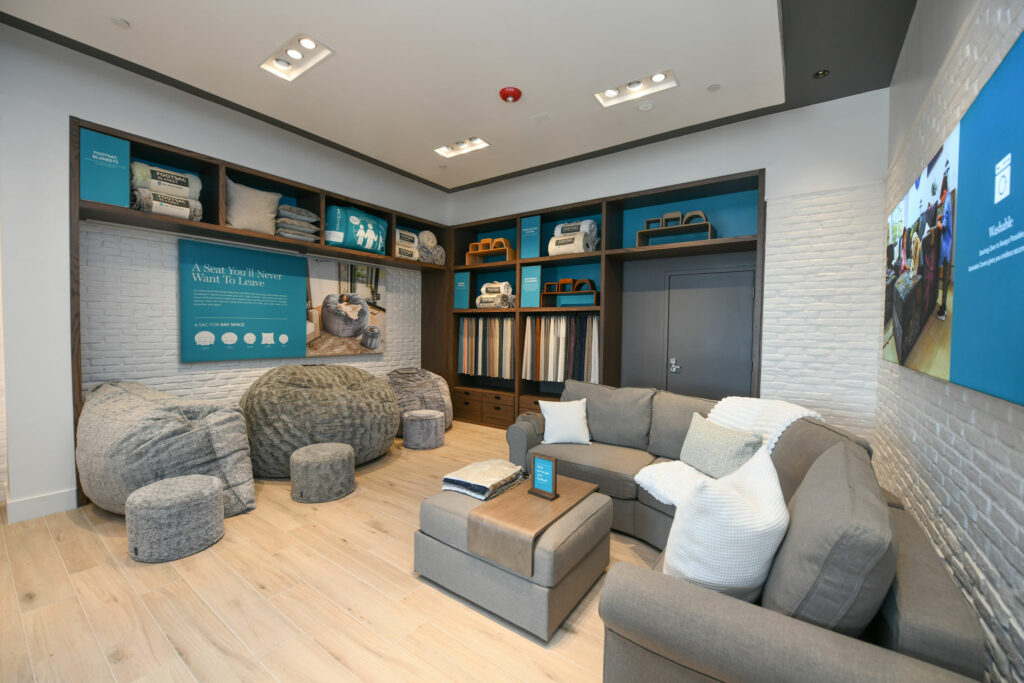 FOR IMMEDIATE RELEASE
WINTER PARK, FLORIDA – April 10, 2023 – The Lovesac Company (Nasdaq: LOVE), the home furnishing brand best known for its Sactionals: The World's Most Adaptable Couch™, is celebrating the debut of its newest showroom in Winter Park Village, opening April 14.
At all Lovesac showroom locations, shoppers have the opportunity to experience cloud-like Sacs: The World's Most Comfortable Seat™ and experience Sactionals, the innovative customizable, washable, changeable, reconfigurable, and FedEx-shippable solution for large upholstered seating. With the introduction of StealthTech Sound + Charge technology, customers can also enjoy an immersive surround-sound product experience with Lovesac Sactionals in-store, showcasing how the brand can help transform future living room viewing experiences.
Extending beyond enabling a newer and more comfortable way of living for customers, Lovesac remains committed to a higher standard of sustainability. Sactionals have been designed to be strong enough to withstand the test of time, thus reducing the amount of furniture waste being added to landfills each year. Additionally, Lovesac repurposes, on average, 600 water bottles to create the base upholstery fabric of each configuration, further upholding their environmentally-friendly design ethos. This year alone, Lovesac will repurpose more than 35 million plastic water bottles.
"We are very proud to announce that Lovesac will be joining us at Winter Park Village as one of our newest tenants this year," said Brett Hutchens, president of CASTO Southeast. "We believe that this innovative, sustainable home furnishings brand will be popular with environmentally-conscious and design-savvy shoppers and will be an exciting addition."
"We are excited to be opening our showroom in Winter Park Village, as we continue to grow the Lovesac brand. We look forward to continuing to help people reduce their ecological footprint by building products that are built to last a lifetime, and are designed to evolve with the customer, provide long-term utility, and ultimately reduce the amount of furniture discarded into landfills," said Shawn Nelson, CEO & Founder of Lovesac.
About The Lovesac Company
Based in Stamford, Connecticut, The Lovesac Company is a technology-driven company that designs, manufactures, and sells unique, high-quality furniture derived through its proprietary Designed for Life® approach, which results in products that are built to last a lifetime and designed to evolve as customers' lives do. The current product offering is comprised of modular couches called Sactionals, premium foam beanbag chairs called Sacs, and the Sactionals StealthTech Sound + Charge System. As a recipient of Repreve's 5th Annual Champions of Sustainability, responsible production and innovation are at the center of the brand's design philosophy with products protected by a robust portfolio of utility patents. Products are marketed and sold primarily online directly at www.lovesac.com, supported by direct-to-consumer touchpoints in the form of owned showrooms, as well as through shop-in-shops and pop-up-shops with third-party retailers. In 2022, Lovesac was recognized by Furniture Today within the "fastest growing" category, and as an honoree for Serendipity's Design Market.
About CASTO Southeast Realty
CASTO, a fully integrated real estate organization since 1926, is a recognized leader in the ownership, management, acquisition, and development of multifamily residences, commercial shopping centers, and office buildings. CASTO's growing portfolio currently includes more than 26 million square feet of commercial property and more than 5,000 residential units located throughout the midwestern and southeastern United States. CASTO Southeast Realty is based in Sarasota, Florida, and serves a variety of clients. To learn more, visit castoinfo.com.
# # #