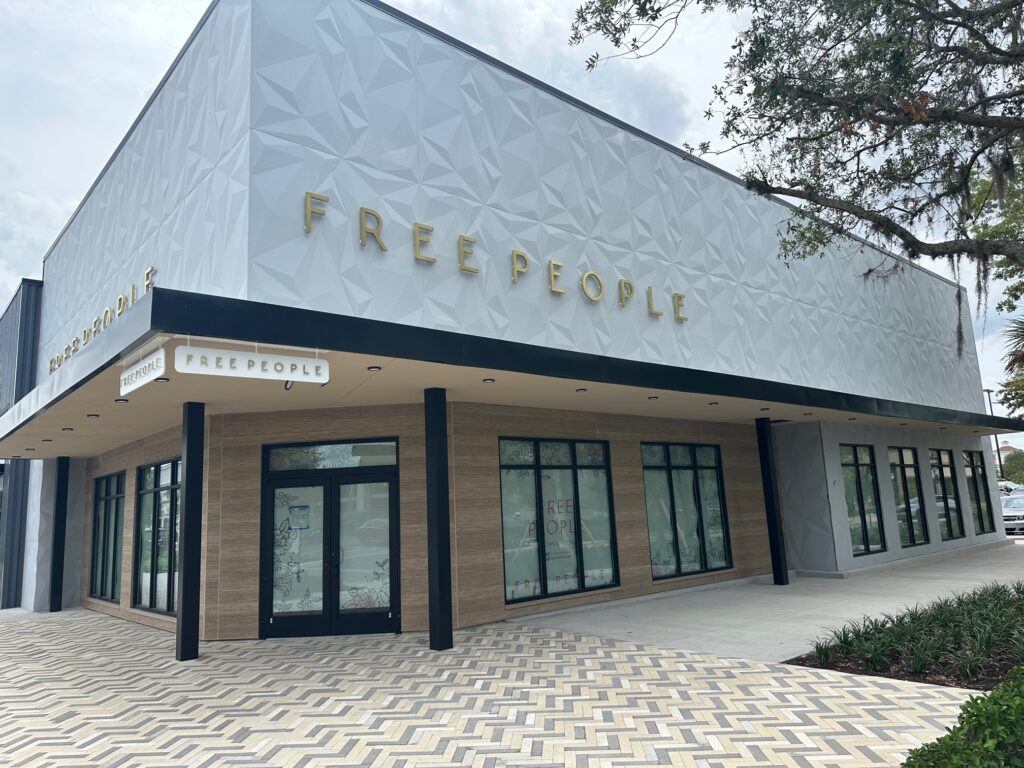 FOR IMMEDIATE RELEASE
WINTER PARK, FL – June 5, 2023 – Summer has arrived in Winter Park, and anticipation is building for the reimagined Winter Park Village, located at 510 North Orlando Avenue.
CASTO has thoughtfully curated a novel mix of coveted luxury brands and intimate boutiques to provide an unparalleled retail experience at Winter Park Village. A unique and diverse collection of retailers, culinary vanguards and entertainment will debut soon and entice patrons to linger longer.
A Resurgence in Shopping In-Person
As part of that redevelopment, CASTO is cultivating a collection of many novel brands, some of which are first-in-market concepts and experiences, into the revisioned destination. According to a recent Forbes article, in-person shopping in the post-pandemic era has become an increasingly desirable way to spark joy or add value. As a result, leading retailers are integrating online and offline shopping into a unified experience. Besides the human connection of shopping in-person, there is the added benefit of immersive, sensory experiences that allow consumers to try before they buy. One example of this will be the new Tommy Bahama Marlin Bar, a restaurant and bar alongside a retail store where guests can eat, drink and shop.
Considering this renewed popularity of in-person shopping, combined with the attractive lifestyle demographic of Winter Park, it's not surprising that CASTO is announcing the arrival of more A-list retailers this year, including three of today's hottest national brands—Free People™, Kendra Scott™, and SkinCeuticals®—opening this summer.
"We're proud of the momentum we've been able to achieve in attracting a collection of highly sought after retailers and restaurants to Winter Park Village," said Brett Hutchens, president of CASTO Southeast. "It's exciting to see our vision for the redesigned Winter Park Village as being part place, part feeling, come to life. We believe the combination of top-tier national brands anchoring the collection coupled with unique, locally-owned boutiques and immersive experiences will create a shopping and dining destination unlike any other in Central Florida."

Three New Retailers Opening in 2023
Free People will be opening its new location in July. As a specialty lifestyle brand, Free People aims to craft and curate for the creative spirit by breaking and complementing current trends with offerings in both contemporary and one-of-a-kind vintage collections. The boutique offers a vast array of products, from apparel to accessories, outerwear, shoes, intimates, swimwear, activewear, and beauty. Free People reflects a penchant for high quality, a commitment to lowering environmental impact, and an inherent love for all things bohemian, empowering, and fun. Free People is part of URBN, a portfolio of global consumer brands. Visit the URBN Investor Relations and Global Community Initiatives pages to learn more.
Kendra Scott will open its new location in July. Known for its design and material innovation, use of color and signature shapes, Kendra Scott offers Fashion, Demi-Fine and Fine Jewelry, watches, and home accessories, plus a men's collection, Scott Bros. by Kendra Scott. The company remains true to its founding philosophy of "Family, Fashion, and Philanthropy," and has donated over $50M to philanthropic organizations since 2010. Kendra Scott's customer-centric omni-channel approach includes a network of 130+ namesake experiential stores and pop-up locations, wholesale partners, and 850+ specialty boutiques. With more than 2,500 employees, the Austin-based company was honored as one of Newsweek's Top 100 Most Loved Workplaces in 2022. Learn more at KendraScott.com.
SkinCeuticals will open its second Florida SkinCeuticals SkinLab™ location in July. Founded in Dallas in 1997, SkinCeuticals has been the number one medical skincare brand globally for the past six years. The brand discovers, develops, and delivers an advanced line of scientifically backed "cosmeceutical" treatments. Launched in 2020, SkinCeuticals SkinLab locations are comprehensive skincare destinations offering five SkinCeuticals signature facial treatments, minimally invasive cosmetic procedures such as dermal fillers, and SkinCeuticals advanced skincare in partnership with esteemed physicians nationwide. SkinCeuticals SkinLab Winter Park joins the now ten existing locations in New York, Los Angeles, Houston, Miami, and other top markets to provide cutting edge, doctor-validated aesthetic services with the ease and convenience that meets the demands of today's consumer. For more information about SkinLab, visit the brand on Facebook, Twitter or Instagram, or at SkinCeuticals.com.

About CASTO Southeast Realty
CASTO, a fully integrated real estate organization since 1926, is a recognized leader in the ownership, management, acquisition, and development of multifamily residences, commercial shopping centers, and office buildings. CASTO's growing portfolio currently includes more than 26 million square feet of commercial property and more than 5,000 residential units located throughout the midwestern and southeastern United States. CASTO Southeast Realty is based in Sarasota, Florida, and serves a variety of clients. To learn more, visit castoinfo.com.